How Does a Sleep Apnea Oral Appliance Work?
There are several treatment options for sleep apnea. One of the options is the oral appliance. These sleep apnea oral appliances are custom made by dentists using a plastic-like mold to form to the specific shape of the patient's teeth and mouth. Not only do they work against sleep apnea, they are also effective to stop snoring.
Benefits of Oral Appliance Therapy for Sleep Apnea
Improved compliance of therapy compared to other treatments for sleep apnea
Device can fit in a pocket
Device is not visible to bed partner when mouth is closed
Most patients see improvement on the first night
The device does not use any electricity. You don't have to plug the device into a wall to function.
How Oral Appliances Work to Keep Your Airway Open
Sleep apnea oral appliances work by moving the jaw forward, which increases the size of the upper airway, thus reducing the air resistance that leads to sleep apnea and snoring. Oral appliances for sleep apnea are often used as a substitute for CPAP or sleep apnea oral surgery. It is often used in conjunction with weight loss if the individual is overweight. Sleep apnea mouth guards are anti-snoring devices. They reduce airway turbulence and stop snoring.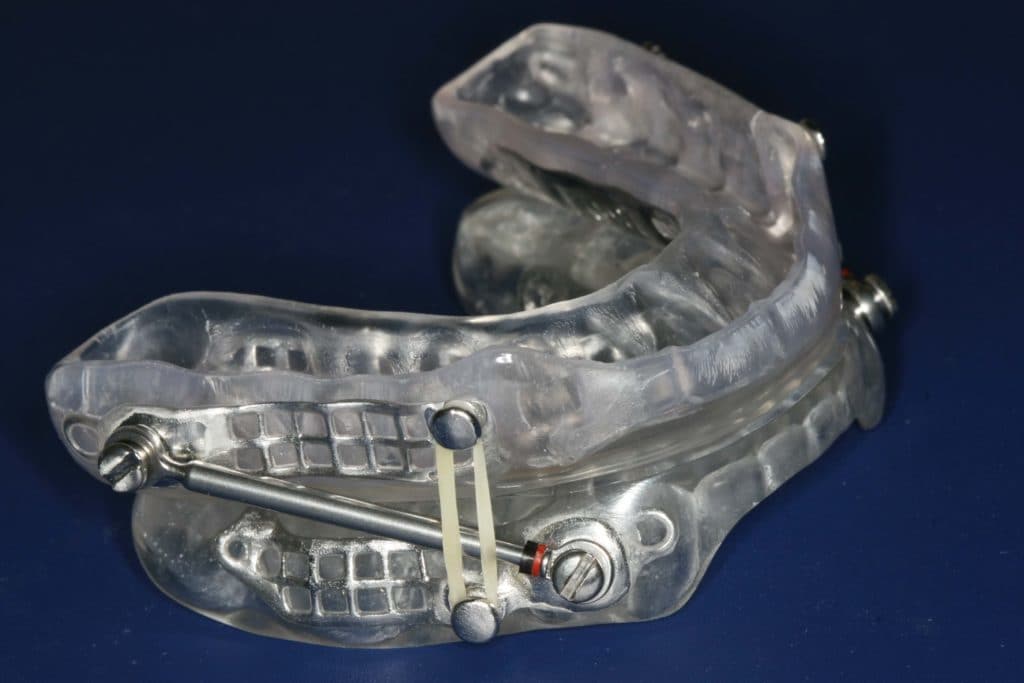 How Oral Appliances Treat Bruxism
These devices not only treat sleep apnea, they also cure grinding. Grinding is the instinctual response by the body when you stop breathing at night. The back and forth motion of grinding is an effective way of reopening a collapsed airway. Even though grinding is what saves us, it comes at a cost. Not only does grinding slowly destroy your teeth, but if you're grinding, you're being aroused out of deep sleep because you can't breathe. Therefore, you treat the root cause — the sleep apnea — and you take away the need for the body to grind the teeth.
For mild to moderate sleep apnea, oral appliance therapy offers many of the same health benefits as CPAP. By treating your sleep apnea, you can reduce your risk for heart disease, stroke and diabetes. You will also improve your daytime alertness, concentration and emotional stability. Dentists work closely with physicians to treat snoring and sleep apnea. At your first visit, your dentist will talk to you about the benefits of treatment. You also will receive information on the potential side effects and the cost of therapy. Then your dentist will conduct a complete clinical evaluation. This will include an examination of your teeth, jaw, tongue and airway, and possibly a new X-ray of your mouth.
Oral appliances are customized using digital or physical impressions and models of your teeth. These models are sent to a dental lab where the appliance is made. Once your oral appliance is ready, you will return to your dentist's office for a fitting. Your dentist will adjust the appliance to maximize its comfort and effectiveness. You also will learn how to clean the oral appliance and maintain it. After this fitting, your sleep doctor may schedule you for a sleep study to verify treatment success.
The development of oral appliance treatment for OSA represents an important step in the management of this disease. Randomized, controlled clinical trials have shown them to be an effective treatment option for snoring and OSA in some patients, particularly patients with less severe OSA or simple snoring and patients who have failed other treatment modalities. Although oral appliances are not as effective as CPAP therapy, they work in most patients to relieve symptoms and apnea and are well tolerated by patients. Most patients report improvements in sleep quality and excessive daytime sleepiness.